The dreary days of winter are in full swing. Every day brings an assault of wicked winds or raw drizzling rain, so it's time to think about what it will take to get you out of your apartment. For me, a spa. I'm not talking about the Mandarin Oriental or anything. I mean one of the many affordable bath houses in New York City, where you can pay an admission fee and shuffle around in your bathing (or birthday) suit all day long.
The origin of bath houses in New York City dates back to the 19th century. The city was crowded with tenement buildings and residents had no access to running water. Toilets were outdoors and shared by many, and any water that came into the apartment had to be carried, bucket by bucket, from a common pump.
In response, the Rivington Street Public Bath opened in 1901. The less fortunate now had a much needed city-funded place to clean up.
Today's bath houses are more in the fashion of Russian, Turkish, and Asian baths. They exist primarily as places to relax, socialize, and escape from the city streets for a spell. The following four facilities are very different from each other. Some are better than others, but I'd go back to each one listed.
Through thick steam in the aromatherapy sauna, a woman was talking about how she had been coming to the Woman Only hours every Wednesday for the last 38 years. The cost back then was $8, she said, but she would never give up her weekly ritual even though the prices have now soared far beyond their original.
The sauna door opened briefly and some of the steam was sucked from the room. I sat down next to the woman, drawn by her thick New York accent. She had very long gray and silver hair, and wore only plastic sandals. She scanned me from head to toe, gestured to my bathing suit, and said, "I can tell you're new here," and launched into another story of the old days.
"The first time I came here, a tall beautiful woman looked me up and down and asked me if I had anything under my bathing suit the other women didn't have. That," she said, "was the last time I wore my bathing suit here."
That's the kind of place this is. Regulars have been coming forever and newcomers, in my experience, are initiated into the fold.
I came alone and found a friendly atmosphere, and while it seemed like others came alone too, a lot of people were acquainted with each other. The bathing area is small and packed into the basement so the sound echoes off the walls and travels, causing a muted din of conversation to bounce back and forth. It's definitely not a silent, meditative space but there was a nice New York sense of camaraderie.
The facilities, which include five saunas and steam rooms, as well as a cold plunge pool, are aged enough that you'll have no trouble believing they opened in 1892. While not sparkling clean, it's not altogether unclean either. The floors in the bathing area are wet—you'll slosh around in your plastic sandals, and the robes and slippers are ill fitting and old. The towels are clean but threadbare, and you should bring your own water. The bath is open every day of the year, with a few blocks of time set aside each week for Women Only and Men Only.
Be aware that the facility is owned separately by Boris and David. According to the website, "a Boris pass can only be used during Boris's shift and a David pass can only be used during David's shift." Additionally, Groupon frequently offers discounts, but be sure to check which owner the Groupon is for.
A fascinating article in the New York Times explains how this divide came about.
Final thoughts: Go here for a quintessential New York experience. People who need a sparkling clean facility might be turned off. 268 East 10th St. (Between 1st Ave. and Ave A), Manhattan. Admission: $48. Packages available.
The first thing I noticed about this Korean-style bath house was the very friendly staff. What quickly became my favorite feature, though, was the dimly lit, uber-relaxing Jade Igloo sauna. It's made of 20 tons of semi-precious stones and, with its earthy sage aroma, it transported me completely away from the frazzled midtown location that I had been walking in moments before.
When this lovely little cave of escape got too hot, I cooled down in the hot and cold soaking pools, which are infused with Sake, Kombu Algae, Ginseng & All Natural Neem, Noni & Tea Tree.
Other facilities include a Diamond Herbal Glass Steam Room and Baked-Clay Detoxification Sauna. They've also recently expanded onto the 5th floor to include a pleasant salt sauna.
Juvenex is clean and sparse. Unlike the other bath houses I visited, there really wasn't much seating space in the main area.
I was a little disappointed by the soaking pools, despite the fresh lemons bobbing around in the hot pool, which was only partially full and lukewarm. Nadia from the front desk came in and filled it for me, but it still wasn't hot enough for my liking. The cold pool was only about a foot deep, with water barely coming up to my mid-stomach when I sat down. It was a far cry from bath houses I've been to in Korea, where I could spend hours alternating between the piping hot pool and the icy cold pool, with sauna time in between.
Juvenex appeals especially to women. It's open to females only from 7 a.m. to 5 p.m. They also market heavily to couples. Also, according to their website, many Broadway actors take advantage of the 24-hour per day hours, and arrive late at night after their performances.
Final thoughts: They really cater to a women-only atmosphere during the day. And if you emerge from your soak hungry, you're smack dab in Koreatown surrounded by good restaurants.—25 West 32nd Street 5th Floor, Manhattan. Admission: $65 for 3 hours.
The quality of Aire exceeds all the other bath houses I've mentioned, so maybe it's not fair to compare them. But while the admission fee to Aire is close to double the others, the quality is more like three times better. The entire facility is serene and clean, and there's a huge variety of bath types, including a salt pool for easy floating, a mentholatum Aromatherapy Sauna, and two Frigidariums, which cool you down quickly after you shrivel up in the steamy Jacuzzi.
Aire was a wonderful experience from start to finish. An attendant gave me a short tour of the lady's locker room, showing me where I could find pretty much everything I'd ever need in a shower room to get me ready to go back into the world: soap, shampoo and conditioner, elastic hair ties, blow dryers and hair straighteners, lotions, razors and even a bag for my wet bathing suit.
The attendant gave me a clean, white robe and a pair of water slippers, which everyone must wear, and then left me to change into my bathing suit.
The baths are down a short flight of steps from the changing room. It's all very dimly lit, with endless candles lining the narrow ledges, providing a soothing and relaxing environment. I arrived at 9 a.m. for my reserved time slot, and I had about a half an hour to myself before other patrons—both men and women—started arriving. Any conversation that people had they kept low, in line with the tranquil mood. Dramatic violin and piano music played not-so-softly in the background.
Maybe I wasn't infused with a sense of cultural history like I was at the Russian and Turkish Baths, but in the bath houses in New York City category, this was my favorite.
Final thoughts: This is lovely for a couple's day, or maybe a gift for a friend (or yourself) who deserves a couple hours of pampering. The splurge is worth it.—88 Franklin Street, Manhattan. Admission: M-Th $81; F-Sat-Sun $91.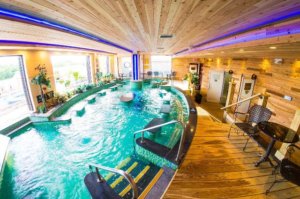 None of the bath houses I've reviewed so far can compare to Spa Castle. OK, I know I said that about Aire, but Spa Castle occupies another level of bath house altogether. In my experience, you can make what you want out of this place—sit by the outdoor heated pool all day, experimenting with the aqua jets so they massage your back, your calves, or other sore muscles. Order a cocktail perhaps. If you need something hotter in temperature, jump over to the Japanese style hot tub. Outdoors is where the masses will be, especially on a weekend. There's also a kiddie pool which means, well…kids, so keep that in mind for whatever your spa expectations are.
Spa Castle is a combination of traditional Asian and European spa features. It's a mix between luxury and family friendly. If you're feeling absolutely house-bound in the dead of winter, come and swim outside in the heated pool, and breathe some fresh air while staying warm.
Inside are pools of varying temperature, along with Jacuzzis and Saunas. There's also a hydrotherapy foot spa and an aqua bar, where you can order non-alcoholic drinks while being massaged by the full-body jets, and more. Massages, body scrubs, facials, and other treatments are available.
Now for the downside: unless you live in Queens or Long Island, Spa Castle is a distance away. Now's the time to gas up that car  you keep moving from one side of the street to the other, waiting for the one day you want to take a drive. If you don't have a car, the 7 train to Flushing will get you most of the way there, and a shuttle will take you the rest of the way. Spa Castle did open a Manhattan branch in 2015, but it's had some problems and hasn't generated the same buzz as the Flushing branch.
Final thoughts: Don't let the distance discourage you. Grab some friends and plan to spend a nice long day of pool and sauna hopping.— 131-10 11th Avenue, College Point, NY. Admission: Weekday $40; Weekend $50.